NEW YORK CITY (ABC News) - Here's the videos with closed captions of
Hurricane Sandy
aftermath. Inside the eerily still metropolis the day after
Frankenstorm
.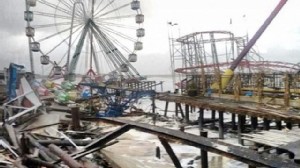 It blasted the ocean itself over dunes, seawalls and berms and into downtowns, tunnels and subways. It killed dozens of people, destroyed famed landmarks and amusement parks, pushed houses off their foundations and toppled trees. It virtually shut down
New York City
, the nation's largest city, with major airports, highways, and bridges and tunnels in and out of
Manhattan
shut down, just as they were after
9/11
.
For millions of people in New York City and elsewhere, the lights remain out, communications remain down and floodwaters, downed trees and power lines still make roads impassable.

Superstorm Sandy: Death Toll Up to 50, but Some Steps Toward Recovery.
However, some of the hardest-hit areas on the
East Coast
were beginning to take the first steps towards recovery. For instance, some New York bridges, tunnels, highways and airports reopened or were slated to be reopened by Wednesday morning.
So far, Sandy has been blamed for at least 50 people, according to
The Associated Press
, and left more than 8 million customers without power. The number of dead continued to rise by the hour a day after the storm made landfall near
Atlantic City, N.J.
, and rocked states including
New Jersey
,
New York
,
Pennsylvania
,
Connecticut
,
Maryland
,
North Carolina
and
West Virginia
. Read more:
http://abcnews.go.com/US/superstorm-sandy-17-dead-estimated-million-power/story?id=17594562#.UJDAWXruqSp
ABC News - Slideshow Superstorm Sandy Pummels East Coast:
http://abcnews.go.com/US/slideshow/superstorm-sandy-pummels-east-coast-17561482
Have A Nice Day and Safe Halloween.
DYV Administaff.