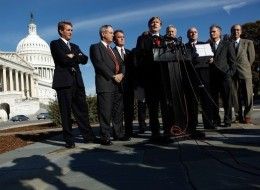 Average Wealth of Congress
In the US Congress, 237 members are millionaires. This is even after declining of the wealth of all the Americans in USA.
According to Huffington Post:
According to a study of personal financial disclosure reports by the CRP, the median wealth of members of Congress dropped nearly 5 percent in 2008 compared to the previous year.

Don't feel sorry for them: Despite the drop, 237 members of Congress are still millionaires.

Senators' median worth currently stands at $1.79 million, down from $2.27 million the year before. House members' current median income is $622,254, down from $724,258 in 2007. Fifty lawmakers have an estimated wealth of at least $10 million.

"Generally speaking, members of Congress are wealthy by comparison with the vast majority of Americans. That doesn't mean they're immune to the effects of this ailing economy -- they're not," said Sheila Krumholz, the CRP's executive director, in a statement. "But they are much better positioned to withstand financial pressures than the people they represent."