The Montana Kaimin - Deaf students outnumber interpreters 2-1; school struggles to meet demand.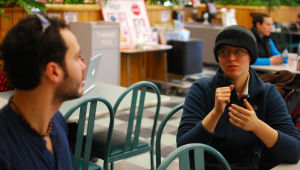 MISSOULA - A shortage of
sign language
interpreters in Missoula has left the
University of Montana
stretching resources thin for Deaf and hard-of-hearing students.
Denise May, the lead interpreter at UM, said
Missoula County Public Schools
and the University already employ every certified interpreter who wants to work in the region.
"
Interpreters
are scarce and we could use more," May said. "For example, tomorrow, besides covering all the classes, there's a rodeo club meeting, a mid-year report, a
Montana Council for Exceptional Children
conference, and others have called asking for interpreters that can work in the community."
There are eight full-time
Deaf
students attending the University this semester double the number of available full-time sign-language interpreters at UM.
The
Americans with Disabilities Act
requires businesses and universities to provide equal access to persons with disabilities including effective communication services. ... Read more:
http://www.montanakaimin.com/news/article_ed86fc92-70e8-11e2-b6fb-001a4bcf6878.html